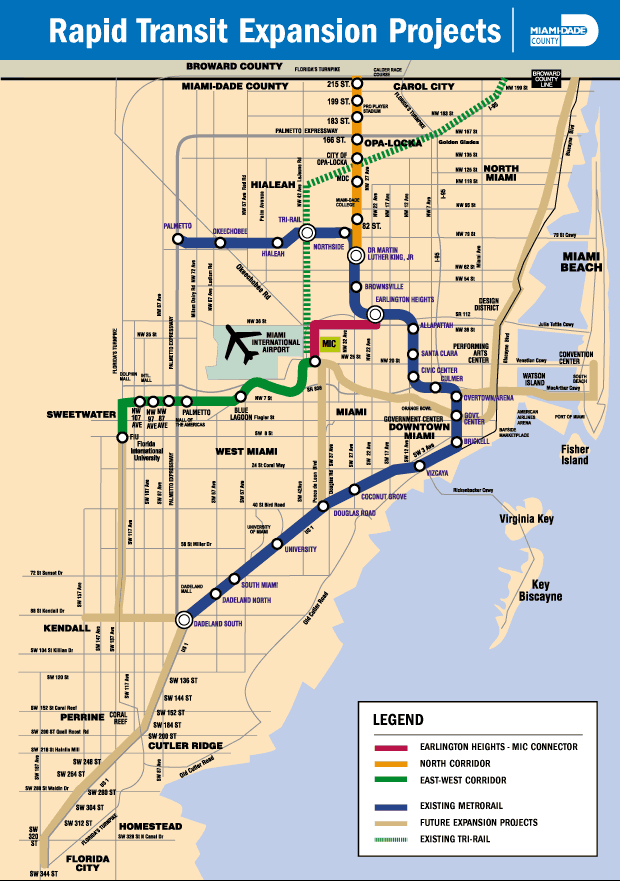 Got this suggestion today from reader Alex Yemat on improving MetroRail:
With the launch of Metrorail's orange line service, residents can use any station from Dadeland South to Earlington Heights and board one train to MIA. Unfortunately, residents living alone the northern parts of the green line, need to transfer at the Earlington Heights Station, and during off peak hours when trains run every 30 minutes, there's greater risk of arriving at the airport 30 minutes too late.

One potential solution is the creation of the Metrail Blue Line!

The Metro Blue Line would run from Palmetto Station to MIA. Blue Line trains would run every 15 minutes, all day and night, seven days a week from 5AM to Midnight.

In addition Metro Orange Line Trains would run every 15 minutes on weekends and off peak hours, increasing service to MIA.

Of course, in the long -term MDT should consider extending MetroRail to Miami Beach; one connection possible that builds on the work already completed could be from Earlington Heights Station to Miami Beach, along the Julia Tuttle Causeway. (Can anyone say the Red Line?)

MIA would be then served by the blue, orange, and red lines. While Earlington Heights would be served by the orange, green, and red lines. Stations south of Earlington Heights would continue to be served by orange and green line trains.

This third extension, creation of the Red Line, would increase the serviceability of the Metrorail, as a true alternative to the car, especially for out of town visitors.

This upgraded network will allow Metrorail to increase service levels to ten minute headways, all day and night. With a Metrorail Train departing from MIA and Earlington Heights Stations every 3 minutes in each direction.

Metrorail could then adopt the following schedule: (wouldn't this be a dream?!)

Weekdays & Weekends: Metro Red and Orange Line Trains, every 10 minutes (24 hour Service) Weekdays & Weekends: Metro Blue and Green Line Trains, every 10 minutes ( 4AM to 1:30AM)

In the event that MetroRail Service is increased, Tri-Rail could expand its service from MIA to West Palm Beach, providing service from 4AM to 1AM, and reducing headways to every 15 minutes during peak times, and every 30 minutes all other times.
Thanks for the suggestions, Alex! All this to say that the more we invest in service improvements in one part of the system – the more we get out of the entire network. Let's get moving Miami-Dade!